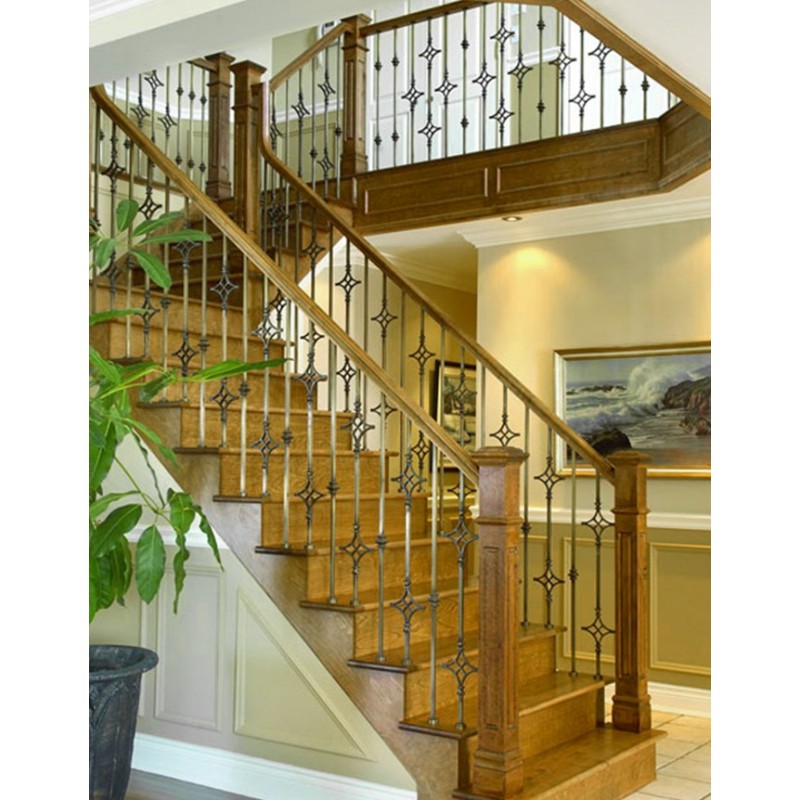  
T 018
T SERIES
HALF-TURN WOOD STAIRCASE WITH FORGED STEEL BALUSTERS
Tradition
Timeless beauty with warmth and style that appeal to all ages.
DETAILS
T 018 steel balusters.
You must be logged in to manage your wishlist
DETAILS
As a professional stair builder using prestige Metal's products, you can share your masterpieces in this section. For them to be part of Prestige Metal's collection, email us your best photos of staircases featuring our products.
Wood and forged steel staircase T 018
Get inspired by this superb wooden staircase made of four styles of forged steel bars for a style that is both unique and traditional.
Project description For this project's realization, our team had as a base a magnificent wooden structure with wooden newel posts. Our client wanted a staircase that would combine originality, warmth and tradition. With our design team, the customer chose four models of forged steel balusters. Then, our design created two unique and harmonious sequences, one for the staircase itself and the other for the handrail and railings on the upper floor. The end result is a half-turned wooden staircase in which diversity and traditional look merge perfectly. Here are the components that were used to build this staircase:
Why choose Prestige Metal for your new staircase? Prestige Metal is a company specialized in the manufacture of staircase components and accessories since 1997. It stands out for its attention to detail and aesthetics, its high-end products, and the vast expertise of its technical team.
Many architects, designers, general construction contractors and renovation companies are using Prestige Metal products to design staircases of all styles. If you are interested in our staircase components and accessories, we invite you to visit our Prestige Metal distributors and retailers everywhere in Canada and the United States.
Any questions? Please note that Prestige Metal does not install stairs. If you have any questions about our staircases, railings, prices or services, we invite you to contact us by email or phone. Our team will be happy to give you all the information you need.
General questions
Can I order balusters directly from Prestige Metal?
All of our products are available at specialty shops. You can find the list of all our distributors in the section
Where to buy
.
Where can I find a stair and accessories specialist in my area?
Visit the
Find a distributor
section or contact Prestige Metal customer service at 1 800 881-8811.
Who can help me calculate the number of balusters I need for my project?
Most specialty shops offer this service. Please contact our stairway specialist partners.
Technical questions
Are all the balusters the same diameter?
Prestige Metal offers square and round balusters in a variety of sizes (1/2'', 9/16'', 5/8'' and 3/8''). The size varies depending on the baluster model you choose.
Do the balusters come in different colors?
Most Prestige Metal balusters are available in a choice of more than 25 colors and finishes.
Are the shoes included?
Standard shoes are included in the price of most of the balusters. Ornamental and square shoes are available for some balusters for an additional cost.
What is the difference between a shoe and a finishing washer?
The shoe is used to hide the screw and is found at the base of the baluster. It is installed above the welded plate. The finishing washer is used to close the space left by holes under the staircase handrail. It is placed at the top of your baluster. It is optional, and additional charges apply.
What hole size should I drill into the bannister?
1/2" baluster: 11/16'' drill bit
9/16'' baluster: 3/4'' drill bit
5/8'' baluster: 7/8'' drill bit
3/8'' baluster: 17/32'' drill bit.
1/2"baluster: 17/32'' drill bit
9/16'' baluster: 19/32'' drill bit
5/8'' baluster: 21/32'' drill bit.
Can the balusters be installed outdoors?
Some balusters are suitable for outdoor installation in the NX color (exterior black). Please note that no screw caps are provided for outdoor balusters.
Didn't find your answer?
Prestige Metal customer service will be happy to help you.
Data sheet
Reference

Portfolio - T 018

Brand

Collection

Product Type