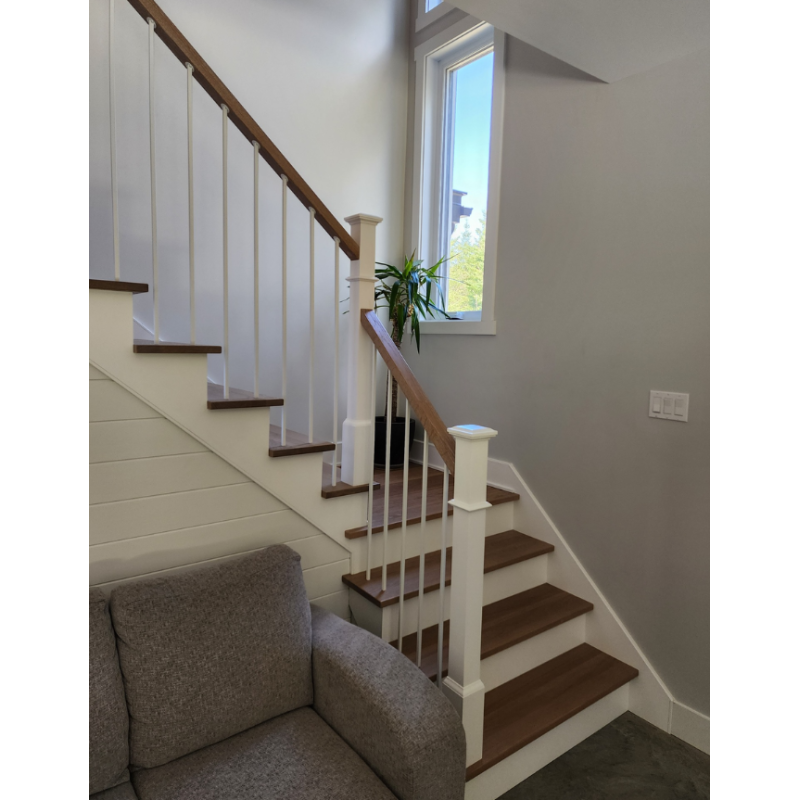  
T 010VX
T SERIES
INTERIOR STAIRCASE WITH WOODEN STEPS AND FORGED STEEL BALUSTERS
Contemporary
Young, modern, and distinctive: a blend of materials, unique shapes, and eye-catching details.
DETAILS
T 010VX Forged steel stair balusters
©Bois Franc Rive Sud
Interior staircase with wooden steps and forged steel balusters
Need design ideas for a new staircase? Be inspired by this beautiful staircase with wood steps and forged steel stair balusters for a chic and sleek look!
Project description With the collaboration of Bois Franc Rive Sud who installed and built this staircase, Prestige Metal contributed to the design of this staircase. For this particular staircase, the client wanted a staircase that would be simple but practical for all members of the family. He chose solid wood steps, handrails and stair posts, matched with forged steel balusters. The result is a modern staircase that is stylish, contemporary and safe for the whole family.
Materials used for this staircase:
Why choose Prestige Metal for your new staircase? Builder and supplier of staircase materials and components for over 20 years, Prestige Metal distinguishes itself from its competitors by its refined designs, the durability and high quality of its products, but also by the professionalism and know-how of its team and its sense of aesthetics.
We work closely with construction companies, interior staircase contractors, designers, general contractors and architects who use our high quality and refined design components to build a customized interior staircase that will exceed all your expectations. If you are interested in our staircase materials and accessories, we invite you to visit our Prestige Metal distributors and retailers throughout Canada and the USA.
Any questions? Please note that Prestige Metal does not install or build stairs. If you have any questions about our stair stringers, stair railings, newel posts, staircase balusters or other stair components, we invite you to contact us by email or by phone. Our team will be happy to give you all the information you need.
General questions
Can I order balusters directly from Prestige Metal?
All of our products are available at specialty shops. You can find the list of all our distributors in the section
Where to buy
.
Where can I find a stair and accessories specialist in my area?
Visit the
Find a distributor
section or contact Prestige Metal customer service at 1 800 881-8811.
Didn't find your answer?
Prestige Metal customer service will be happy to help you.
Data sheet
Reference

Portfolio - T010

Brand

Colors & finishes

Collection

Materials

Product Type

Staircase Type